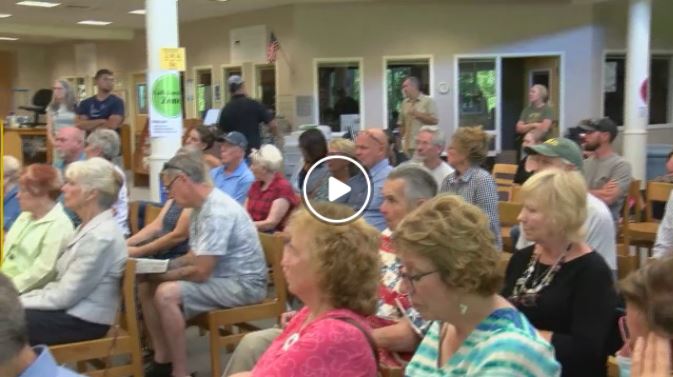 Science teacher Katie Medart and assistant principal Rachel Damiano of North Middle School were placed on leave in April after they produced a video championing a campaign for schools to recognize biological sex over gender identity.Posted: Jul 15, 2021 4:29 PMUpdated: Jul 15, 2021 6:56 PMPosted By: Jamie Parfitt
GRANTS PASS, Ore. — The Grants Pass School District board met on Thursday in a public hearing to consider whether two North Middle School educators should have their employment terminated after they launched a campaign to reshape gender identity policy at Oregon schools. By the end of the day, both women were dismissed.
North Middle School assistant principal Rachel Damiano and science teacher Katie Medart posted a video on YouTube at the end of March, heralding the launch of their "I Resolve Movement" by outlining their responses to policies on gender identity in schools. Both educators were placed on paid leave by the District in April.
According to a statement from the District, a third-party investigator was previously hired by officials to examine complaints that Damiano and Medart violated District policies. The school board scheduled two special meetings for July 15 — public at the educators' request — to consider if they should dismissed. Termination of their employment was the recommendation of Superintendent Kirk Kolb.
Damiano and Medart each had separate hearings to argue their cases against dismissal before the board, and members of the board were given opportunities to ask questions of the educators and Grants Pass School District administration.
The third-party investigative report had not yet been made public at the time of the hearings on Thursday. The administration cited some aspects of the report, which found that Damiano and Medart had used school resources to launch the campaign and failed to make clear that they did not represent GPSD or their school with their opinions, though neither educator named their workplace in the video.
In her hearing that began at 3 p.m., Damiano argued that the administration's allegations rely on a definition of "political campaigning" that does not align with district policy or Oregon statute. She also asserted that she and Medart did not use substantial work time or resources to work on the project — a line of argument that the administration pushed back on, saying that any amount of school resources used to this end is an inappropriate use.
The GPSD administration also underlined that Damiano is a probationary employee, claiming that she had failed the test of that probation. Under district policy, probationary teachers can be dismissed by the board for any argument reason deemed to be made in "good faith."
When the board came to a vote, there was some brief confusion and apparent difficulties with the in-room audio. Board member Cliff Kuhlman, who has served since 1986, did not immediately seem to grasp the context of the vote. When the dust settled, four board members had voted in favor of her dismissal — including Kuhlman — with three against. Her employment was terminated.
Medart's hearing began at 5 p.m., soon after the conclusion of Damiano's.
After a series of similar arguments — albeit ones that lingered longer on the First Amendment and how it may or may not apply to the matter at hand — the board first voted on whether to rebuff the Superintendent's recommendation. A majority voted against the motion. Then, taking up the issue of whether to approve the recommendation, the board voted in favor of terminating Medart's employment along the same lines as Damiano's.
The 'I Resolve Movement'
In the original video produced by Damiano and Medart, the two express consternation about the apparent inconsistency of gender identity guidelines that started at the Oregon Department of Education and have been implemented in slightly different forms at local districts, and go on to make clear their own opinions of what those guidelines should be.
"We recognize that, excepting very rare scientifically-demonstrable medical conditions, there are two anatomical gender presentations, male and female," Damiano and Medart's resolution begins.
Under the resolution, public school restrooms and locker rooms should be changed from "boys" and "girls" to ""anatomically-male" or "anatomically-female" — and may "only be used by persons matching the anatomical designation of the spaces."
"What that then is referencing is what, in essence, what genitalia do you have? Because they're designed in form and function, both of those facilities, for anatomical anatomy," said Medart in the video.
Under the resolution, students uncomfortable with the anatomically-labeled spaces can request access to a private restroom or locker room, if available, although there is no stipulation that those requests be granted.
Transgender students wishing to go by a "a derivative of their legal name" — not a name of their choice — or preferred pronoun can do so with parent permission, and other students or staff are free to either accept or ignore the request.
"If a student's name was Jessica Smith . . . if Jessica was on the journey of their gender identity, and they wanted to identify as male, they could then change their name to Jess," Medart said.
Damiano and Medart have filed a federal lawsuit accusing the District of violating their rights under the First Amendment. They are represented by Ray Hacke of the Pacific Justice Institute.