Just asking…..
Dear Governor, how could you violate our rights for 15 months?
Dear Legislators, how can you stand by and allow the Governor to continue abusing emergency powers unchecked?
Dear Oregon Health Authority, how can you justify putting kids LAST?!!!
Dear Special Ed Teachers, School Psychologists and Early Childhood professionals, how can you stay SILENT?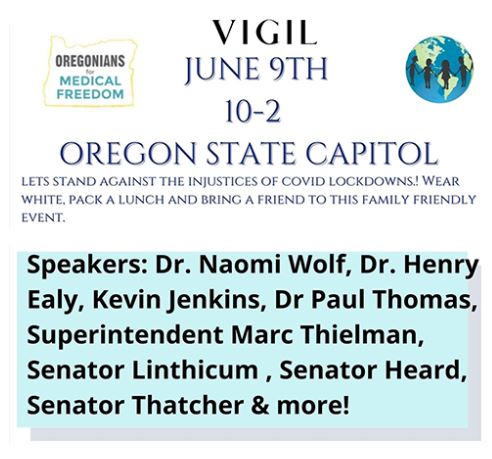 FAQ

Our objective is to show the other side of Covid lockdowns The media has been blaring information non-stop about Covid infections or Covid related deaths but almost no one is talking about the harm that Covid lockdowns have caused. For almost 15 months we have endured this diatribe but we are here to show the other side and how this blatant messaging has been leading to widespread Covid vaccination and culminating to become vaccine passports.
We ask everyone to wear white as it symbolizes truth and light and that's what we want to spread

Dare to ask questions, challenge misleading messaging, and shine our inner lights. Across the street, the Capitol building remains closed but they are in there. Yet they continue to ignore our voices. So we will be loud enough so they can hear us from their offices.

Where is the vigil located? Across the street from the Capitol on the Northside of Capitol Mall, at the wall of fountains

Will the fountain be on? No, due to Covid and other issues there will be no fountain turned on.

Do I need to bring a lunch or will there be food trucks? Please bring a lunch as there will not be food trucks due to
insurance/permitting issues.

Can we bring a chair or tent? Yes to both, but be advised that there will be no staking allowed.

Are kids allowed? Yes, bring your whole family.

Will there be bathrooms? Yes there are bathrooms located nearby at the capital mall and there will be an ADA Honeybucket
available.

Where to we park? There is available underground parking and pay parking along the streets surrounding the Capitol.

Can my organization have a booth at the event? Yes, if you are interested in having a booth please email Nicole DeGraff at

Can we bring signs? Yes, please bring your handmade signs ideas, or messaging. Tone can be as follows:
Basically, anything that describes how Covid lockdowns have affected you or your loved ones, any losses suffered, any harm that came to your business or your family or health as a result of indefinite lockdown policies.

Or signs about how vaccine passports violate the Constitution, medical privacy, create discrimination/segregation.
We want to show the other side and point out how the focus on Covid infections or Covid related deaths has been
imbalanced with the suffering the never-ending lockdowns have caused. For almost 15 months, no one is allowed to talk about the harm that Covid lockdowns are causing. We also want to counter the idea that vaccine verification or passports are necessary.
Local eateries if you don't pack a lunch:

Adam's Rib Smokehouse
503-362-2194
1210 State St.

Little Lois Café in West Salem has delivery

Marcos Place on Union has tacos

Straight from New York Pizza

Black Sheep Catering does box lunches