Freedom Over Fear Rally – Free
September 12, 2021 @ 1:00 pm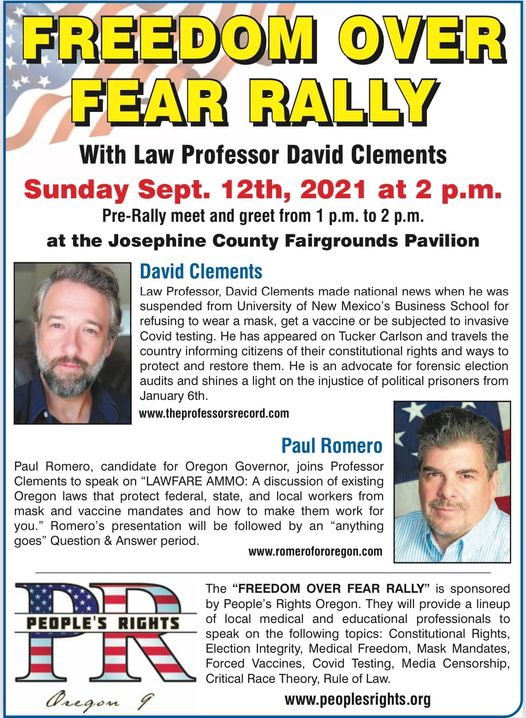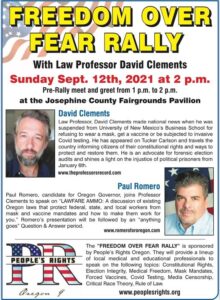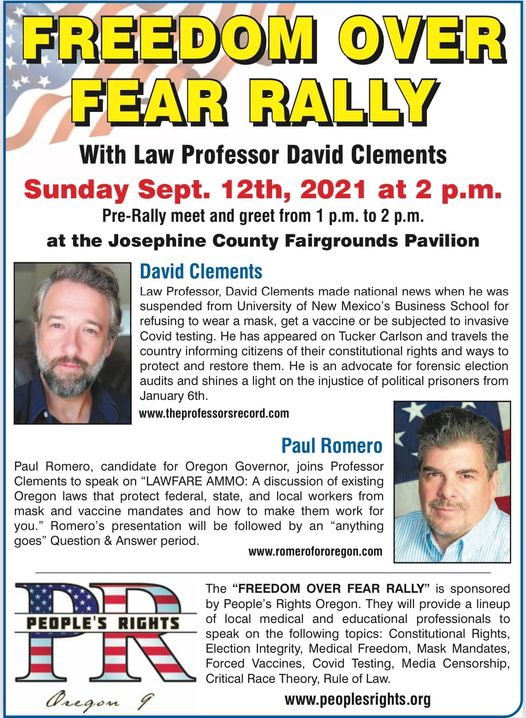 Sunday, September 12th is the Freedom over Fear Rally at the Josephine County Fairgrounds Pavillion. Guest speakers are David Clements, Paul Romero, and Alek Skarlatos. This event is sponsored by People's Rights. This is a FREE event.
Joseph Rice of Liberty Watch will be the moderator.
The flyer does not include information on the additional guest speaker Alek Skarlatos who is running for Congress against Peter DeFazio.
Alek is a former Oregon National Guardsman. He attended both Air Assault School and Sniper School, achieving the rank of Specialist. He completed a nine-month deployment in Afghanistan with the US Army National Guard's 186th Infantry Regiment, 41st Infantry Brigade Combat Team in 2015.
Alek along with four others stopped an armed terrorist on a Paris-bound train traveling from Amsterdam to Paris in August 2015. His heroism earned him several awards and medals around the world including, the United States' Soldier's Medal. In addition, he received the Chevalier of the Legion of Honour and the medal of the City of Arras, France.
Please join us in what will be an excellent opportunity for like-minded individuals to congregate, learn and share ideas.
Holli Morton