HOSTED BY - JOSEPHINE COUNTY REPUBLICAN PARTY
ONE OF THE MOST SIGNIFICANT AND DYNAMIC FORUMS EVER HELD IN SOUTHERN OREGON
Saturday - Feb 25th - 10am to 8pm
Jo Co Fairgrounds - Floral Building
Fellow Patriots:
The world is spinning out of control.  We experience losses every day: safe use of our parks and streets, the innocence and education of our children, our First and Second Amendment rights… and so on.  The Republican Party of Josephine County is committed to creating solutions.
Electing conservatives to serve on every commission and board in the county.
Sponsoring education programs to keep citizens informed – sometimes in contrast to the mainstream media or local left-wing news organizations.
Maintaining our office, across from the courthouse, to help citizens register to vote, check to see their ballots are counted and a myriad of other functions.
All Party members are volunteers. To continue our service in the community, we reach out to concerned citizens for financial assistance.  Dinners have been the norm as fundraisers; however, what most of us are hungry for is information –and TRUTH.
To that end, we have organized an all-day Patriots Convention, to be held on February 25th, where we have ample room, at the Fair Grounds. Over two dozen speakers, from around the country, will educate us about the many topics that keep us awake at night:  a value-added fundraiser.  There will be the usual silent auction items – and, by the way, they are fantastic –but each attendee will depart the convention having learned some valuable truths, explored some alternative thought processes, and made important contacts.
We encourage all citizens to attend the Patriots Conference.  Not only will you be helping to support conservative principals in Josephine County, you will go away with new insights that you can share.  Each of us has the ability to be a part of the solution.  It is time to step up.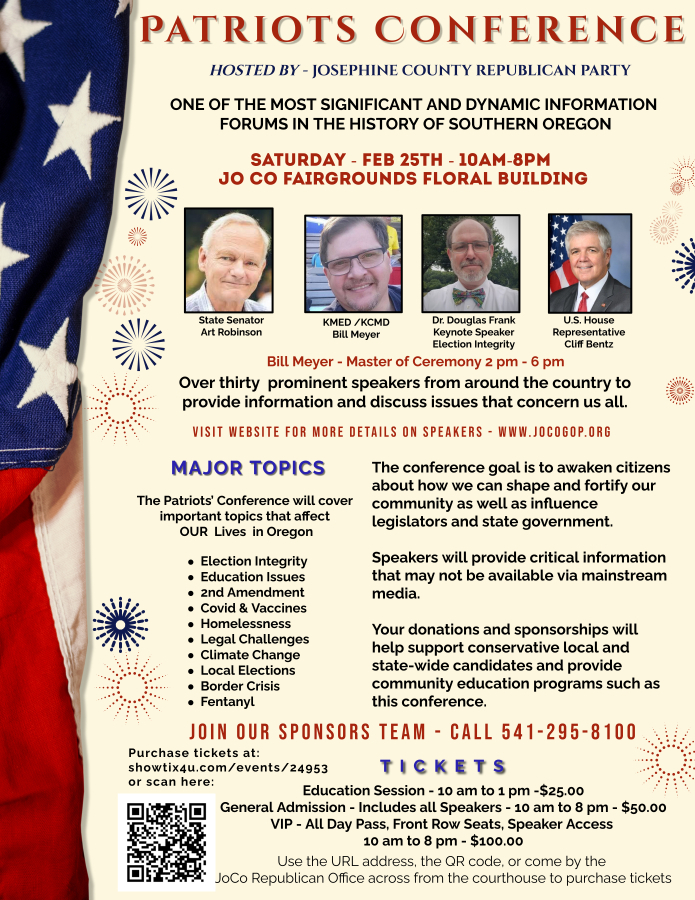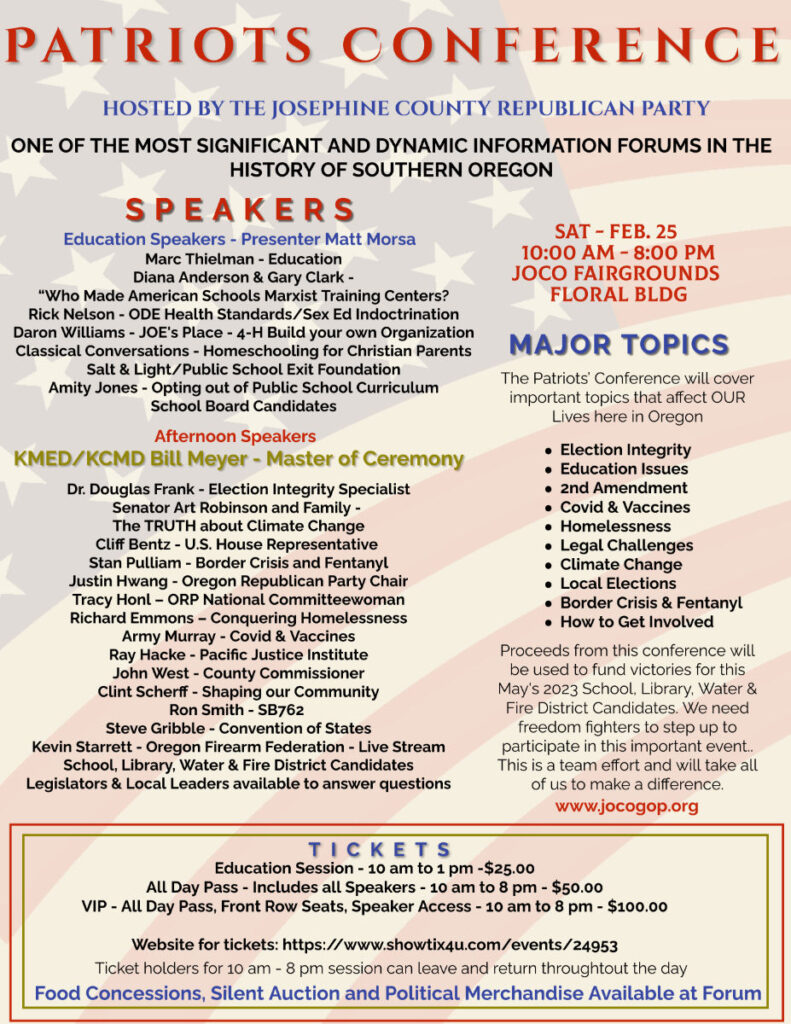 Ad for February in Eagle Newspaper